Description
---
COMPREHENSIVE, CURRENT AND WELL WRITTEN
8 Lessons with 39,000 + Words, 7 Workbooks, 8 Powerpoint Presentations, 3 Audience Handouts,
Sales Page Minisite, Email Series, 30 New Articles, 40 Affirmations + Graphic,
Tweets, Newsletters, 3 Editable Infographics, Video And Much More

---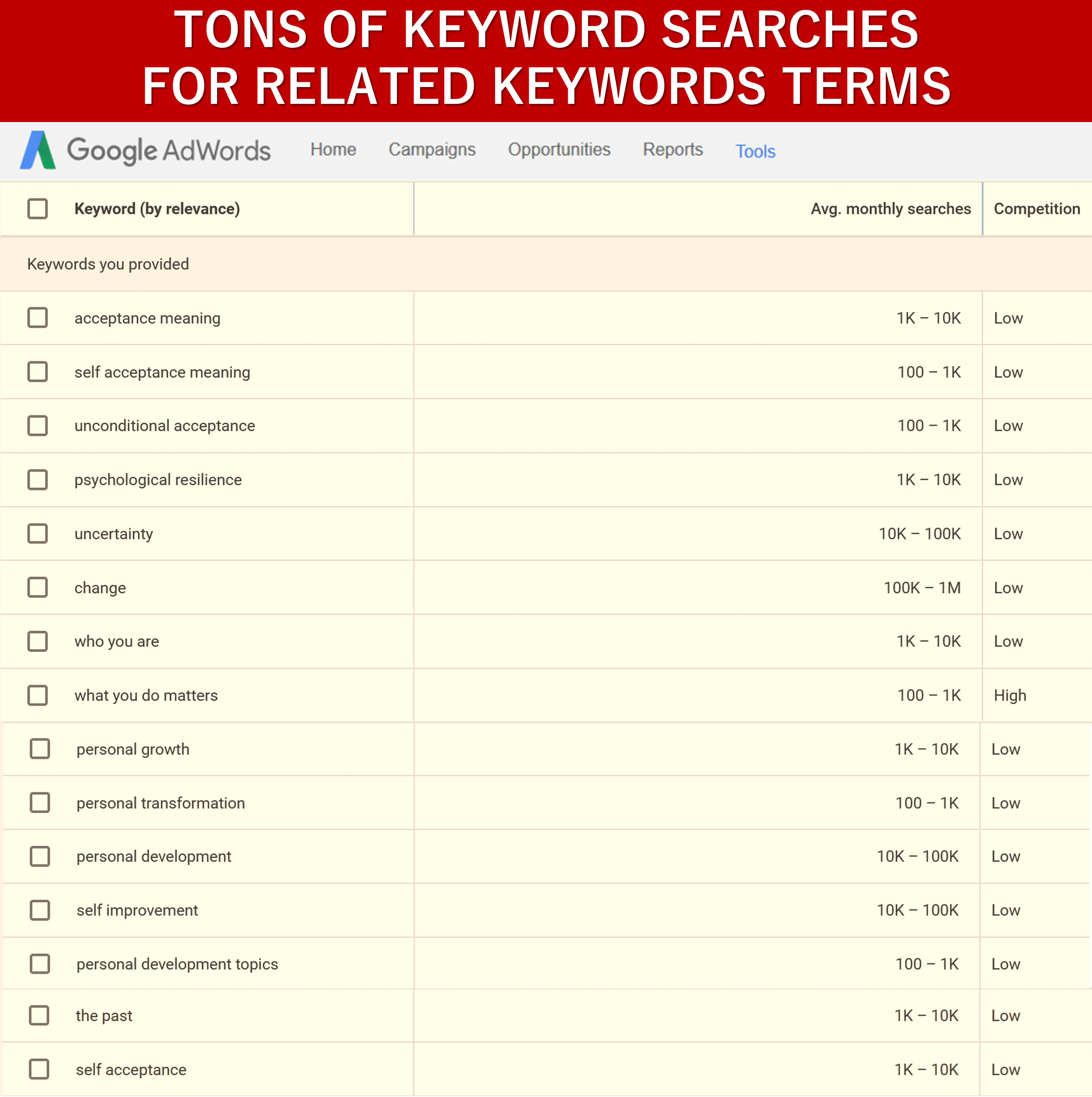 ---
WHAT YOU GET IN THIS PLR BUNDLE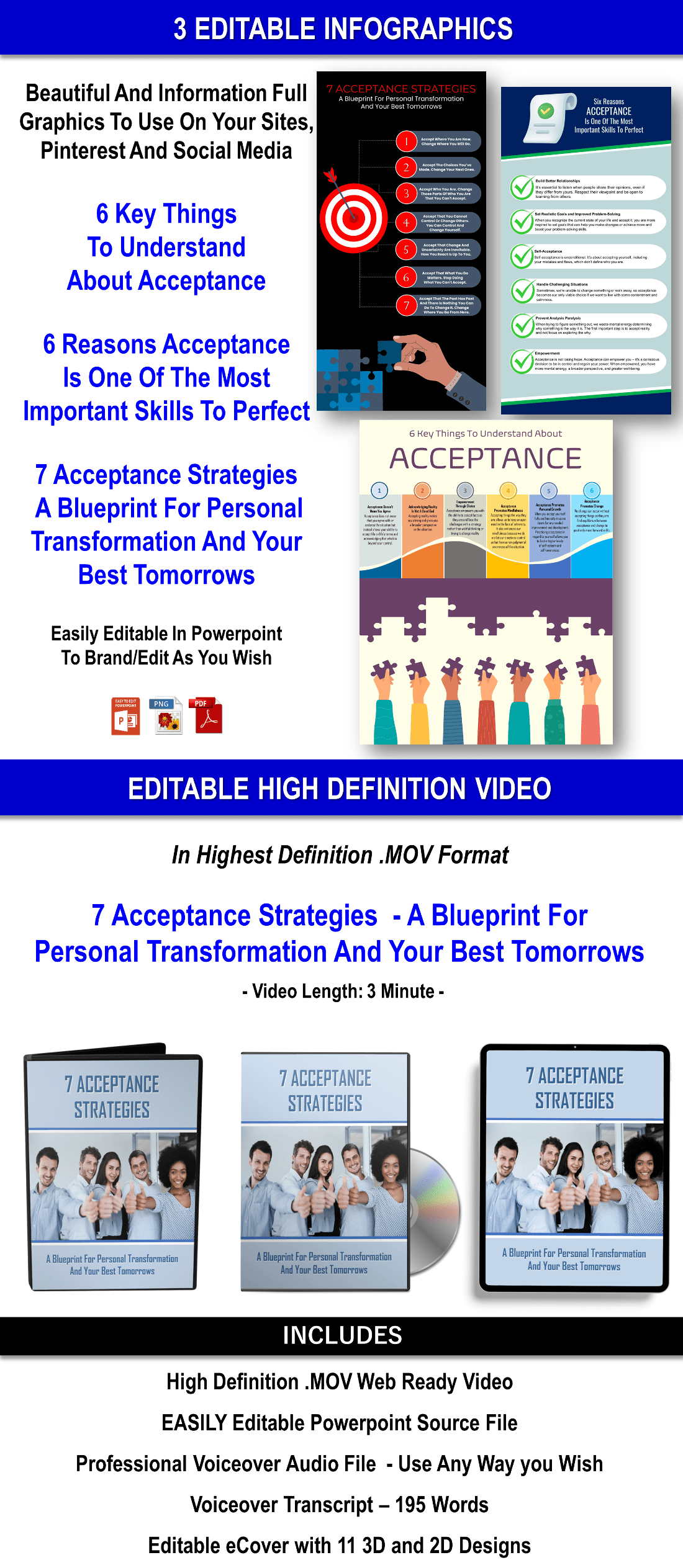 ---
VIDEO DEMO
Note: You will get full unwatermarked version
---
YOUR BONUSES


BONUS VIDEO DEMOS
---
RECAP OF EVERYTHING YOU GET
8 Lessons
Lesson 1: A Detailed Look At Acceptance (16 Pages/2,138 Words)
Editable eCovers with 14 Different 2D and 3D Designs
Lesson 2: Accept Where You Are Now, Change Where
You Will Go (28 Pages/5,369 Words)
Editable eCovers with 14 Different 2D and 3D Designs
Lesson 3: Accept The Choices You've Made,
Change Your Next Ones (27 Pages/5,851 Words)
Editable eCovers with 14 Different 2D and 3D Designs
Lesson 4: Accept Who You Are, Change Those Parts Of
Who You Are That You Can't Accept (33 Pages/6,549 Words)
Editable eCovers with 14 Different 2D and 3D Designs
Lesson 5: Accept That You Cannot Control Or Change Others,
You Can Control And Change Yourself (27 Pages/5,857 Words)
Editable eCovers with 14 Different 2D and 3D Designs
Lesson 6: Accept That Change And Uncertainty Are Inevitable,
How You React Is Up To You (23 Pages/4,811 Words)
Editable eCovers with 14 Different 2D and 3D Designs
Lesson 7: Accept That What You Do Matters, Stop Doing
What You Can't Accept (17 Pages/3,933 Words)
Editable eCovers with 14 Different 2D and 3D Designs
Lesson 8: Accept That The Past Has Past And There Is Nothing You Can
Do To Change It, Change Where You Go From Here (24 Pages/4,516 Words)
Editable eCovers with 14 Different 2D and 3D Designs
8 Powerpoint Presentations – 1 For Each Lesson

3 Audience Handouts
20 Frequently Asked Questions: Acceptance (8 Pages/1,464 Words)
Editable eCovers with 14 Different 2D and 3D Designs
6 Case Studies: Acceptance In Practice  (8 Pages/1,430 Words)
Editable eCovers with 14 Different 2D and 3D Designs
30 Acceptance Affirmations
Editable eCovers with 10 Different 2D and 3D Designs
Editable Graphic: 40 Acceptance Affirmations
Sales Page Mini Site For eCourse Package
Editable Product Cover Images
Thank You Page
7 Workbooks/Introspective Journals
Lesson 2 – Accept Where You Are Now, Change Where You Will Go (178 Pages/912 Words)
Lesson 3 – Accept The Choices You've Made, Change Your Next Ones (178 Pages/96 Words)
Lesson 4 – Accept Who You Are, Change Those Parts Of Who You Are That You Can't Accept (178 Pages/974 Words)
Lesson 5 – Accept That You Cannot Control Or Change Others, You Can Control And Change Yourself (179 Pages/976 Words)
Lesson 6 – Accept That Change And Uncertainty Are Inevitable, How You React Is Up To You (178 Pages/968 Words)
Lesson 7 – Accept That What You Do Matters, Stop Doing What You Can't Accept  (178 Pages/1,038 Words)
Lesson 8 – Accept That The Past Has Past And There Is Nothing You Can Do To Change It, Change Where You Go From Here (181 Pages/989 Words)
Editable eCovers with 10 Different 2D and 3D Designs

7 Day Email Series: The Power Of Acceptance –
Make It A Priority To Learn This Vital Skill – 1,585 Words
Custom Squeeze/Lead Page for eMail Series – Use This Opt In To Generate
Leads and Then Use The Email Series To Promote the eCourse Series
30 Articles
5 Benefits Of Acceptance For Your Mental Health – 701 Words
Greater Self-Acceptance Improves Emotional Wellbeing – 1,078 Words
Most Important Thing To Accept When You Only Think About The Future, You Are
Missing Your Present, Then When That Future Comes You Will Miss That Too – 971 Words
6 Reasons You Must Accept What You Cannot Change – 1,118 Words
Accept That Not Everyone Will Like You, But You Must Always Like Yourself – 1,021 Words
Most Important Thing To Accept You Can Never Predict Life, So Prepare Yourself Well – 1,112 Words
5 Reasons You Find It Hard To Accept The Hard Truths – 718 Words
Most Important Thing To Accept When People Hurt You It's Not Your Fault – 1,090 Words
6 Key Things To Understand About Acceptance – 622 Words
6 Reasons Acceptance Is One Of The Most Important Skills To Perfect – 681 Words
A Detailed Look Into Self-Acceptance – 677 Words
A Lack Of Acceptance – What Happens When We Fight The Realities Of Life – 697 Words
Accept What You Cannot Change, Change What You Can't Accept – 884 Words
Acceptance In Practice – The Art And Science Of Letting Go – 632 Words
Acceptance In Practice – Understanding And Respecting What You Can And Cannot Control In Life – 819 Words
Acceptance In Practice – What Does That Look Like – 642 Words
Are You Running From Your Past – Acceptance Starts The Healing Journey – 956 Words
Empowering Dynamics – 10 Things You Should Never Accept – 818 Words
Free Yourself By Accepting That You Are Allowed To Make Mistakes – 674 Words
Heal Yourself With Radical Acceptance – 944 Words
How To Learn To Accept – 6 Steps To Get You Started – 617 Words
Lack Of Acceptance – The Problem With Regret – 894 Words
Most Important Thing To Accept – Words Often Mean Much Less Than Actions – 612 Words
Most Important Thing To Accept If You Believe Your Happiness Is
Somewhere Else, You Won't Find It Where You Are – 779 Words
The Battle With Acceptance – 5 Signs You Are Struggling – 612 Words
The Value Of Accepting All Your Flaws – 1285 Words
The Value Of Accepting Your Emotions – 670 Words
What Is It That Makes Acceptance Such A Challenge – 606 Words
Why Can't I Let This Go – 640 Words
Why We Must Accept Ourselves Unconditionally – 649 Words
2 Editable Infographics
6 Key Things To Understand About Acceptance
6 Reasons Acceptance Is One Of The Most Important Skills To Perfect
Easily Editable Powerpoint, PDF and High Def PNG
Editable Video
7 Acceptance Strategies – A Blueprint For Personal
Transformation And Your Best Tomorrows
Easily Editable Powerpoint
Voiceover Provided Separately
Voiceover Script – 195 Words
Editable eCover with 11 3D and 2D Designs
40 Tips/Tweets/Social Media Updates – The Power
Of Acceptance – 1,541 Words

BONUSES
Report: Stop Sabotaging Your Own
Success And Happiness (13 Pages/4,321 Words)
Editable Word And Beautifully Formatted PDF
Editable eCovers with 7 Different 2D and 3D Designs
Custom Squeeze Page
10 Articles
10 Signs You Are Authentic Out in the World – 1043 Words
5 Reasons You Must Be Your Real Self Out In The World – 632 Words
6 Reasons People Are Afraid To Be Themselves – 621 Words
6 Reasons Perfectionism is Bad News – 674 Words
6 Reasons To Celebrate Your Flaws – 756 Words
6 Things To Tell Yourself That Will Bring Out The Real You – 662 Words
6 Tips to Become More Authentic – 709 Words
6 Ways to Let Go of Perfectionism – 716 Words
7 Signs You Are a Perfectionist – 688 Words
Be Grateful for Your Imperfections – 712 Words
30 Tips/Tweets/Social Media Updates:
Embracing Your Imperfect Self – 894 Words
4 Editable Infographics
Creating The Habit Of Self-Reflection
5 Steps On The Road To Self-Confidence
Easily Editable Powerpoint, PDF and High Def PNG
33 Editable Viral Images: Confidence Inspiration
Easily Editable Powerpoint and High Def Web Ready PNG
PDF Report Created From Images
Editable Collage: Confidence Inspiration
Easily Editable Powerpoint, PDF and High Def Web Ready PNG
2 Editable HD Videos
5 Steps To Shut Down Your Inner Critic – 3 Minutes
Easily Editable Powerpoint
Voiceover Provided Separately
Voiceover Script – 430 Words
2 DVD Cover Graphics
5 Ways To Become More Self-Accepting – 3 Minutes
Easily Editable Powerpoint
Voiceover Provided Separately
Voiceover Script – 469 Words
2 DVD Cover Graphics
Boost Your Confidence Inspiration – 4 Minutes
Easily Editable Powerpoint
Voiceover Provided Separately
Voiceover Script – 500 Words
2 DVD Cover Graphics
$9250 Value
WHAT MY CUSTOMERS SAY
ABOUT MY PLR PRODUCTS
"I've been investing in PLR materials for several years now, but have rarely found as profoundly comprehensive, detailed and excellent quality packages of relevant information anywhere else. I often feel like an excited kid in a candy store when I open a new package of content. It seems to just go on and on forever – and I can't wait to consume it, i.e. share it with my potential and present clients and patients as well as my social media followers, connections and friends. Though I love to create my own content and materials, time is somethingI treasure more and more with each passing year. JR's content makes my workload so much lighter and frees me up to be with friends and loved ones much more consistently.
And as if that wasn't enough, what really drives me to come back again and again when I see new content being offered by JR, apart from the amazing product launch investment points, is the incredible customer service.
Quick, yet thorough, compassionate, solution-oriented, friendly and generous in every way. I feel like I'm connecting with one of my dearest friends when I communicate with JR. She's just so real, authentic and open. Thanks JR from the bottom of my heart for all that you are, and for all that you do to make our lives easier and more efficient. ♥️"
– Dr Marilyn Joyce, International Bestselling Author, Speaker and Creator of the Simple 9-Step Formula for Stress Release, TheStresstoSuccessFormula.com
The content provided by JR is measurably better than anything you would get from even the top ghostwriters. No matter the topic, the information is always very comprehensive, very well written and highly detailed. I love how she references authority entities and offers many statistics and scientific studies in her writing. The videos are amazing too!
First rate quality is the reason I buy every single pack she puts out, and always wait for her promotional email to buy any PLR because her bonuses are truly amazing!
I should also mention that she typically answers any support issues I have the same day, sometimes within minutes of sending the request, another great perk of dealing with this amazing PLR provider.
Thanks for everything,
Ron
---
MORE THAN 350 PIECES OF QUALITY CONTENT

6 Lessons, 7 Workbooks, 6 Powerpoint Presentations, Personal Growth Goal Planner,
Audience Handouts, Sales Page Minisite, Emails, 28 New Articles,
40 Tweets, 3 Editable Infographics, 2 Editable Videos, Bonuses and more…
---
$70.00Add to cart
24 Ways To Use This Content
1. Brand and create your own products
2. Educate your clients, web visitors and blog subscribers
3. Establish yourself as an authority in the niche
4.

Build your lists and give elements as bonuses to subscribers
5. Create webinars
6. Send the information in newsletters
7. Monetize with affiliate links and make killer commissions/use on affiliate sites
8. Use slideshows, videos and PDF files for site promotion on Slideshare, Scrbd, DocStoc etc…
10. Turn articles into an eBook and sell it or give it away
11. Create an entire site with all the content or mix it up to create loads of unique content.
12. Create many unique slideshows to post on your sites and/or use for promotion to get traffic for your sites
13. Turn the PLR into videos, post on your sites, or for promotion on Vimeo, Youtube, etc.
14. Convert the PLR to audio
15. Create podcasts
16. Create special reports
17. Use on Facebook and Twitter
18. Add it to an existing related product
19. Give reports or eBooks as a bonus when someone makes a purchase with your affiliate link
20. Create blogs with it
21. Use infographics to promote sites, on social media and on your sites.
22.
Use it on your sites, create many posts or giant authority posts
23. Use audio voiceover files to create podcasts, or make more videos
24. Create an ENTIRE COMPLETE WEBSITE with all the information included
---
What Are The Usage And License Rights?
LICENSE DETAILS
[YES] Can be edited in any way
[YES] Can be branded and sold ONLY with personal use rights
[YES] Can give away parts for free to lists or as bonuses (with personal use rights)
[YES] Can put your name as the author
[YES] Can be used as eCourse and webinar material
[YES] Can be published on your websites and blogs
[YES] Can be added to membership sites for personal information uses
[YES] Can be packaged with other personal use products
[YES] Can be used on article marketing sites, i.e. Ezine Articles
[YES] Can be translated to other languages
[YES] Post videos to YouTube, video sites and your own sites
[NO] Cannot claim copyright to videos or eBooks (unless ebook is completely rewritten) this is common sense with PLR as multiple users cannot claim copyright
[NO] Cannot resell the pack in its entirety
[NO] Cannot give, sell or pass any of the Editable Source
Files to others
[NO] Cannot use my name as author
[NO] Cannot sell or give away Resale Rights, Master Resale
Rights or Private Label Rights
[NO] Cannot be offered on any sites that's sole purpose is to
sell or giveaway PLR/MRR products
[NO] Cannot offer through auction websites with PLR rights,
Master Resale Rights Or Resale Rights
$70.00Add to cart