Description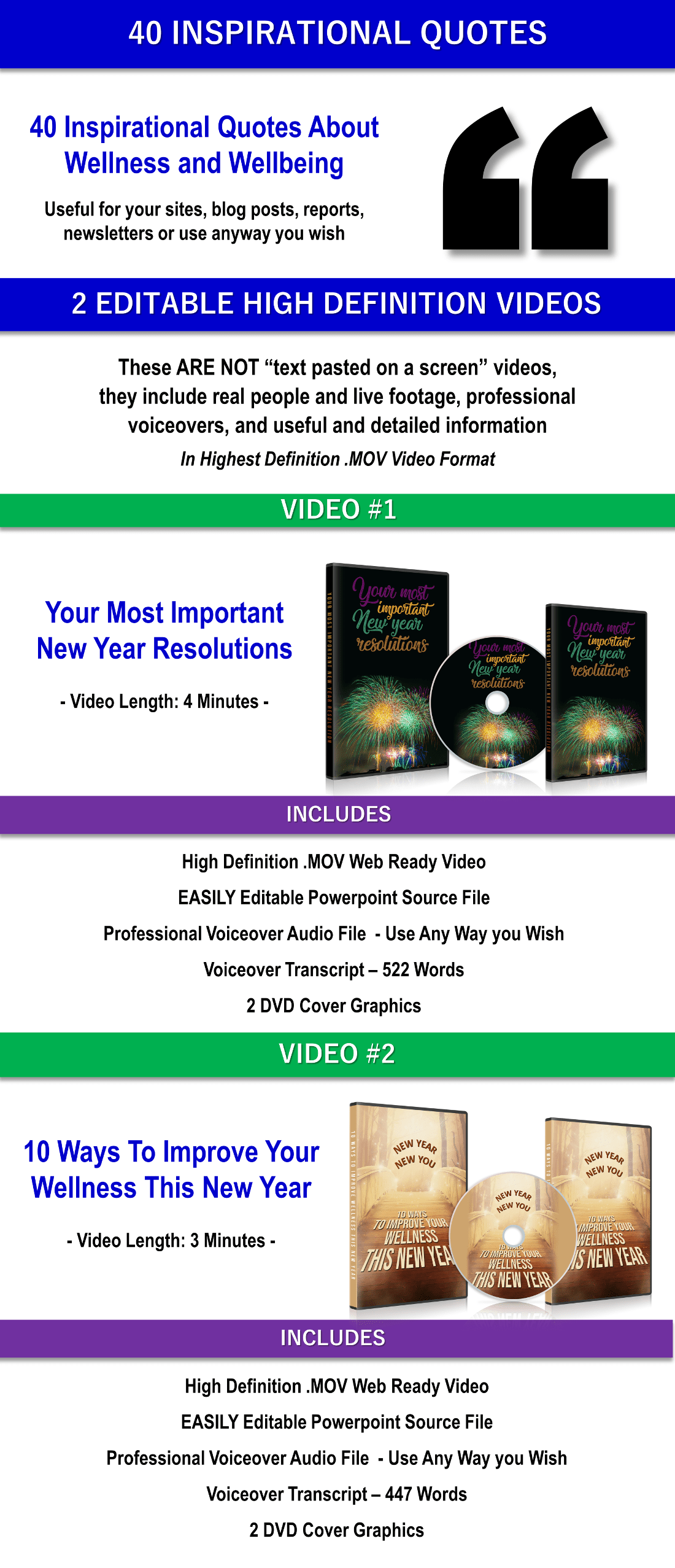 VIDEO DEMOS
Note: Except for the eBook sales video, the video samples have been shortened
in length for demo purposes and you will get full un-watermarked versions
YOUR BONUSES 
A Selection Of High Quality Content From My PLR Store
19 Page Report
Holistic Development Of
The Whole PersonIncludes

Editable Word &
Fully Formatted PDF
6 Styles Of Covers
w/Editable Powerpoint
Custom Squeeze Page

(19 Pages/4,076 Words)
---
Editable/Printable
Cheat Sheet:
50 Empowering Thoughts
For A Better You Editable Word &
Fully Formatted PDF
---
Cheat Sheet Graphic:


50 Empowering Thoughts
For A Better You Editable Powerpoint,
Web Ready PNG
& PDF
7 Quality Articles
5 Elements Of Holistic Wellness For
Balance In Your Life – 646 Words
5 Questions To Assess Your Overall Wellness – 662 Words
Achieving Balance In A Diet Plan – 603 Words
Mineral Balancing 101 – 638 Words
Physical Wellness 101 – 608 Words
The Journey To Being Well Begins With You – 666 Words
What Is Holistic Wellness? – 615 Words
---
Editable HD Video


10 Reasons To Embrace
Personal DevelopmentIncludes
Easily Editable Powerpoint Source File
Professional Voiceover
Voiceover Script – 500 Words
2 DVD eCover Graphics

—-Video Length: 3 Minutes —-
BONUS VIDEO DEMO
Note: the video samples is shortened in length for demo purposes.
you will get a full un-watermarked version
A MASSIVE PACK OF THE HIGHEST QUALITY CONTENT
THAT YOU CAN BE PROUD TO SHARE WITH YOUR AUDIENCE
$60.00Add to cart

RECAP OF EVERYTHING YOU GET
ITEM
MINIMUM VALUE
20 Pg. Report #1:  1

00 Things To Do To Promote Personal Growth

(5,108 Words)

$400
18 Pg. Report #2: 100 Things To Do To Promote Mental Wellness

(5,036 Words)

$375
16 Pg. Report #3: 100 Things To Do To Promote Emotional Wellness

(4,633 Words)

$350
20 Pg. Report #4: 100 Things To Do To Promote Wellness Of The Spirit

(4,680 Words)

$400
15 Pg. Report #5: 100 Things To Do To Promote Physical Wellness

(4,184 Words)

$325
12 Pg. Report #6: 100 Things To Do To Improve Your Diet

(3,904 Words)

$275
20 New High Quality Articles (12,000 + Words)
$325
8 Day Newsletter Email Series: Your Wellbeing In The New Year
$200
6 Editable Custom Squeeze/Opt-In and Thank You Download Pages for Reports  (editable)
$600

5 Infographics

(editable)

$500
40 Inspirational Quotes On Wellbeing
$100

40 Wellbeing Tips/Tweets/Social Media Updates

(1,101 Words)

$100
2 High Quality High Definition Videos (editable)
$400
2 Professional Audio Voiceovers + Text Scripts
$200
4 Video Cover Graphics
$50
36 eBook Covers (editable)
$125
BONUS #1: 19 Pg. Report:  Holistic Development Of The Whole Person with Squeeze Page, 6 Images and Editable eCovers
$150
BONUS #2:

7 Quality Articles

$150

BONUS #3:

Editable/Printable Cheat Sheet: 50 Empowering Thoughts For A Better You

$100

BONUS #4:

Editable Cheat Sheet Graphic: 50 Empowering Thoughts For A Better You

$100

BONUS #5:

Editable HD Video: 10 Reasons To Embrace Personal Development with Pro Voiceover and Cover Graphics

$300

WORK TIME
MINIMUM 750 HOURS
RESEARCH TIME
MINIMUM 350 HOURS
EFFORT
PRICELESS
TOTAL MINIMUM VALUE
$5525
$60.00Add to cart
24 Ways To Use This Content
1.
Brand and create your own products
2. Educate your clients, web visitors and blog subscribers
3. Establish yourself as an authority in the niche
4.

Build your lists and give elements as bonuses to subscribers
5. Create webinars
6. Send the information in newsletters
7. Monetize with affiliate links and make killer commissions/use on affiliate sites
8. Use slideshows, videos and PDF files for site promotion on Slideshare, Scrbd, DocStoc etc…
10. Turn articles into an eBook and sell it or give it away
11. Create an entire site with all the content or mix it up to create loads of unique content.
12. Create many unique slideshows to post on your sites and/or use for promotion to get traffic for your sites
13. Turn the PLR into videos, post on your sites, or for promotion on Vimeo, Youtube, etc.
14. Convert the PLR to audio
15. Create podcasts
16. Create special reports
17. Use on Facebook and Twitter
18. Add it to an existing related product
19. Give reports or eBooks as a bonus when someone makes a purchase with your affiliate link
20. Create blogs with it
21. Use infographics to promote sites, on social media and on your sites.
22.
Use it on your sites, create many posts or giant authority posts
23. Use audio voiceover files to create podcasts, or make more videos
24. Create an ENTIRE COMPLETE WEBSITE with all the information included