Description
ADOPT A WINNING ATTITUDE AND MINDSET
MOTIVATIONAL CONTENT PACK
325+ Pieces Of Content With Private Label Rights
---
COMPREHENSIVE, CURRENT AND WELL WRITTEN
50 Page eBook, Report, 5+ Motivational Audio Recordings and Scripts, Emails, Quotes, 3 Fill In Journals,
40 Affirmations, 28 New Articles, 5 Editable Checklists And Graphics, Case Studies, 40 Tweets, Emails,
Inspirational Calendar, 27 Editable Viral Images, 2 Editable Infographics, Editable Videos, Bonuses and Much More
---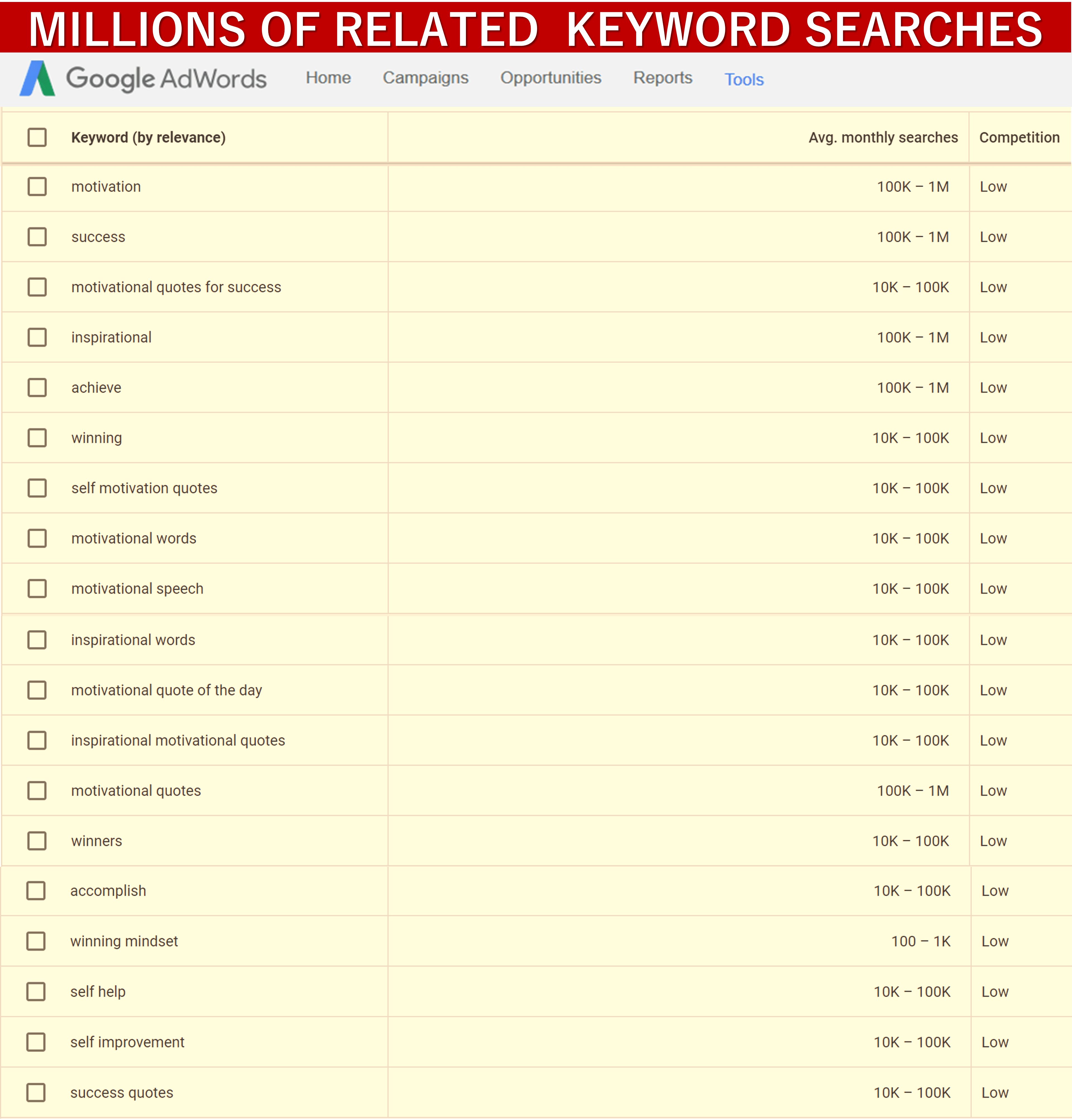 INSPIRE AND MOTIVATE YOUR
AUDIENCE WITH A HIGH VALUE PACKAGE
This package is designed to inspire and motivate
an audience to adopt a winning attitude and mindset.
⇔ Includes various motivational content including ⇔
5 professionally and highly motivating inspirational recordings,
video, affirmations recordings, inspirational quotes calendar and much more all of which…
Inspire Action
Inspire Self-Belief
Motivate To Take Action
 Inspire To Adopt The Winning Attitude To Achieve Success In Anything
---
THE MOTIVATIONAL MARKET IS RED HOT
Almost 80% of Americans report having
attended at least one motivational speech in the past year.
---
A study reported that the average American spends around $30 a year on
motivational speaking events, with Millennials being the most frequent participants.
https://blog.gitnux.com/public-speaking-statistics
---
Marketdata estimates that the motivational speakers' market in the U.S.
generated an estimated $1.9 billion in revenues in 2019.
https://blog.marketresearch.com/u.s.-motivational-speaking-market-worth-1.9-billion
---
SKIP THE HARD WORK, MASSIVE COSTS AND THE MANY
HOURS IT WOULD TAKE TO CREATE THIS CONTENT YOURSELF!
⇒ Sell Your Own Motivational Product ⇐
And/Or
Use In Podcasts
Post To Membership Sites
Make Videos For YouTube Channels
Inspire Your Audience To Adopt A Winning Attitude
Edit and Brand As You Wish ♦ Create An eCourse ♦ Build Your Lists 
Mix It Up To Create Loads of Content ♦ Create Webinars ♦ Build Sites
Use In Newsletters ♦ Use On Affiliate Sites ♦ Use To Promote Sites…
The Possibilities Are Unlimited!

All the research and hard work has been
done for you to reach a massive audience!
 including lots of DIVERSE CONTENT and many
EDITABLE SOURCE FILES
SO YOU CAN USE IT IN UNLIMITED WAYS
---
Put Your Name On It
GRAB PLR RIGHTS TO CONTENT DONE FOR YOU
WHAT YOU GET IN THIS PLR BUNDLE





HOW TO USE PLR TRAINING
---
MOTIVATIONAL AUDIO DEMOS
Note: Demos are random samples – you will get full versions
FEMALE VOICEOVERS
MALE VOICEOVERS
"REPEAT AFTER ME"
AFFIRMATIONS AUDIO DEMOS
---
VIDEO DEMO
Note: You will get full unwatermarked version
---
YOUR BONUSES
Quality PLR From My Store


---
 MORE THAN 325 PIECES OF QUALITY CONTENT
---
5 Motivational Audio Recordings + Affirmation Recordings
PLUS
50 Page eBook, Report, 28 New Articles, 3 Journals, 40 Affirmations, Emails
5 Checklists and Graphics, 2 Infographics, 27 Inspirational Viral Images,
Motivational Calendar, Emails, Tweets, Video And Much More
THE MANY HOURS OF research and writing time
and money in outsourcing savings is priceless!
WITH ALL THE EDITABLE RESOURCES
THE USAGE AND BRANDING OPTIONS ARE UNLIMITED!
---
ITEM
MINIMUM VALUE
50 Page eBook: Adopt A Winning Attitude And Mindset
$1100
14 Page Report: 30 Characteristics Of People Who Have A Winning Attitude
$350
5 Motivational Audios, Scripts Each With Editable eCovers


Each one has a female and male voice version for a total of 10 Recordings

$1150
Audio Recording – 40 Affirmations – I Am A Winner with Female and Male Voice
Versions

$350

28 New Articles (18,000 + Words)
$700
5 Case Studies: The Difference A Winning Attitude Can Make
$175
40 Affirmations: I Am A Winner
$150
Editable Graphic: 40 Affirmations: I Am A Winner (editable)
$175
4 Week Editable Printable Calendar:  Winning Attitude Inspiration (editable/printable)
$300
All Calendars PDF
$50
3 Fill In Journals: Winning Attitude (editable/printable)
$350
5 Checklists
$300
5 Checklist Graphics (editable)
$500
2 Editable Infographics (editable)
$350
26 Editable Viral Images: Adopt A Winning Attitude Inspiration (editable)
$450
Editable Collage: Adopt A Winning Attitude Inspiration (editable)
$175
HD Video: 40 Positive Affirmations: I Am A Winner w/Pro Voiceover and Editable eCovers (editable)
$250
7 Day Email Series: A Winning Attitude And Mindset 101

$125

47 Inspirational Quotes: A Winning Attitude
$50
40 Tips/Tweets/Social Media Updates – Adopt A Winning Attitude
$75
103 Extra Sales Graphics
$100
44 eCovers (source files are editable)

$250

103 Sales Graphics
$100
BONUS #1: 15 Page Report: 15 Key Lessons Learned From Failure w/Editable eCovers and Custom Squeeze Page

$200

BONUS #2: 14 Articles 
$300
BONUS #3: 138 Page Workbook: The Lessons I Learn From Failure
$250
BONUS #4: 74 Page Workbook: Forgive Yourself

$250

BONUS #5: 10 Day Email Series: Learn From Your Mistakes And Failures

$125

BONUS #6: 10 Day Email Series: Using Adversity To Your Advantage

$125

BONUS #7: Editable HD Video: Resilience & Failure Are Forever Intertwined w/Pro Voiceover and Editable eCovers
$250
WORK TIME
MINIMUM
800 HOURS
RESEARCH TIME
MINIMUM
300 HOURS
EFFORT
PRICELESS

TOTAL MINIMUM VALUE

$9075
♦ MORE THAN 325 PIECES OF QUALITY CONTENT ♦
50 Page eBook, Report, 5+ Motivational Audio Recordings and Scripts, Emails, Quotes, 3 Fill In Journals,
40 Affirmations, 28 New Articles, 5 Editable Checklists And Graphics, Case Studies, 40 Tweets, Emails,
Inspirational Calendar, 27 Editable Viral Images, 2 Editable Infographics, Editable Videos, Bonuses and Much More
$70.00Add to cart