Description
6 LESSON ECOURSE
THE BEGINNER'S GUIDE TO
PERSONAL GROWTH AND DEVELOPMENT
Write Your Own Story
300+ Pieces Of Content With Private Label Rights
---
COMPREHENSIVE, CURRENT AND WELL WRITTEN
6 Lessons, 7 Workbooks, 6 Powerpoint Presentations, Personal Growth Goal Planner,
Audience Handouts, Sales Page Minisite, Emails, 28 New Articles,
40 Tweets, 3 Editable Infographics, 2 Editable Videos, Bonuses and more…
---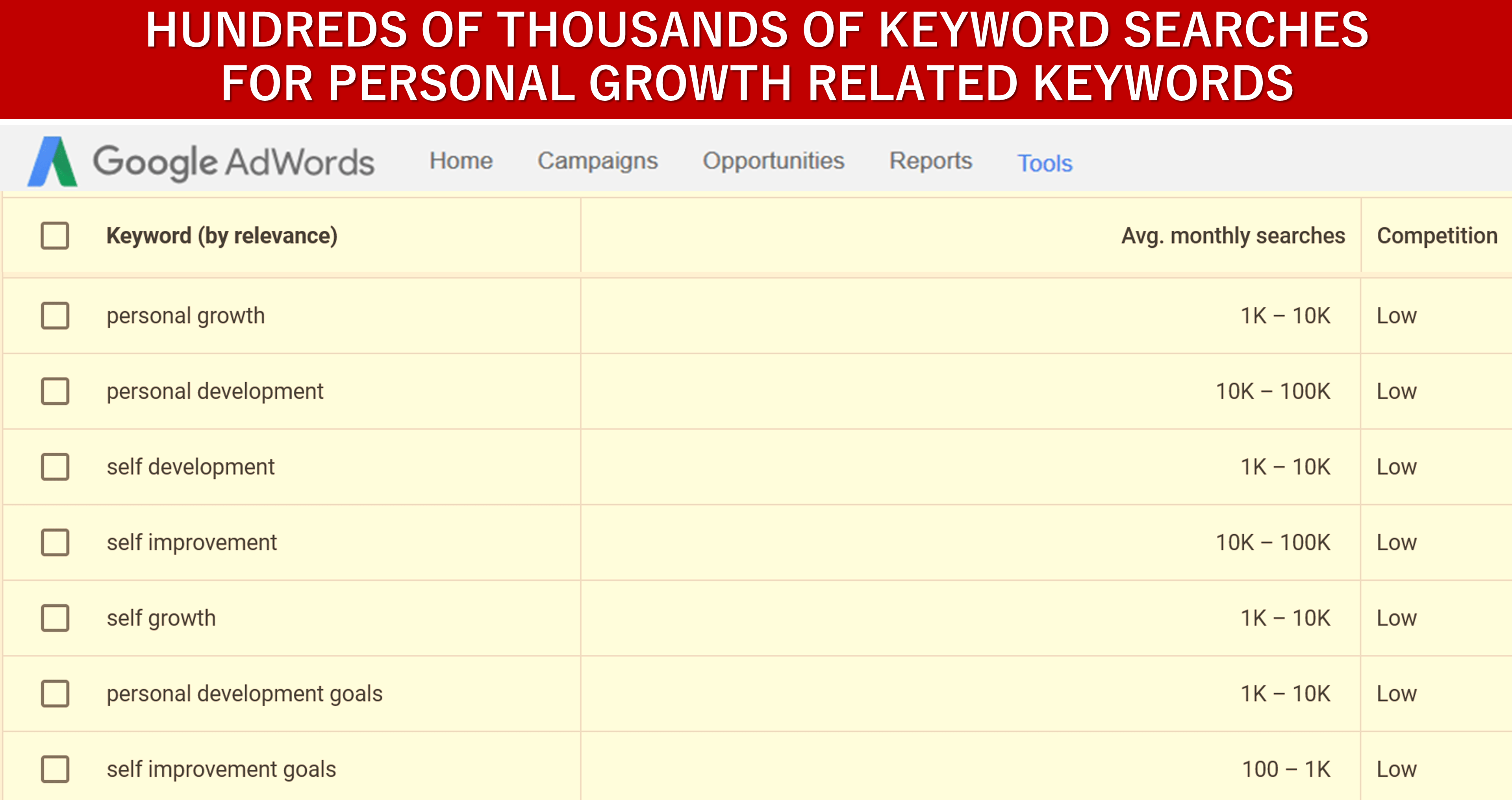 A HIGH VALUE ECOURSE PACKAGE
IN A VERY HIGH DEMAND NICHE

---
THE PERSONAL GROWTH and DEVELOPMENT NICHE is in HIGH DEMAND
as THE MARKET REACHES NEW HEIGHTS

"The global personal development market size was estimated at $43.77 billion in 2022
and
is anticipated to grow at a compound annual growth rate of 5.5% from 2023 to 2030.
The market for personal development is expected to
witness significant growth over the forecast period, driven by individuals'
strong emphasis on acquiring new skills for self-improvement,
personal development, and self-recognition."

(https://www.grandviewresearch.com/industry-analysis/personal-development-market)
---
THE E-LEARNING MARKET IS RED HOT 
The E-Learning Market is worth over 325 billion in 2023 and
is forecasted to grow at a 20% CAGR from 2022 to 2028. 
The US e-learning market is expected to grow significantly in
the coming years – it will increase by $12.81 billion between 2020 and 2024. 
The number of online learning platform
users is expected to reach 57 million by 2027.
(ProsperityforAmerica.org)
---
WHAT YOU GET IN THIS PLR BUNDLE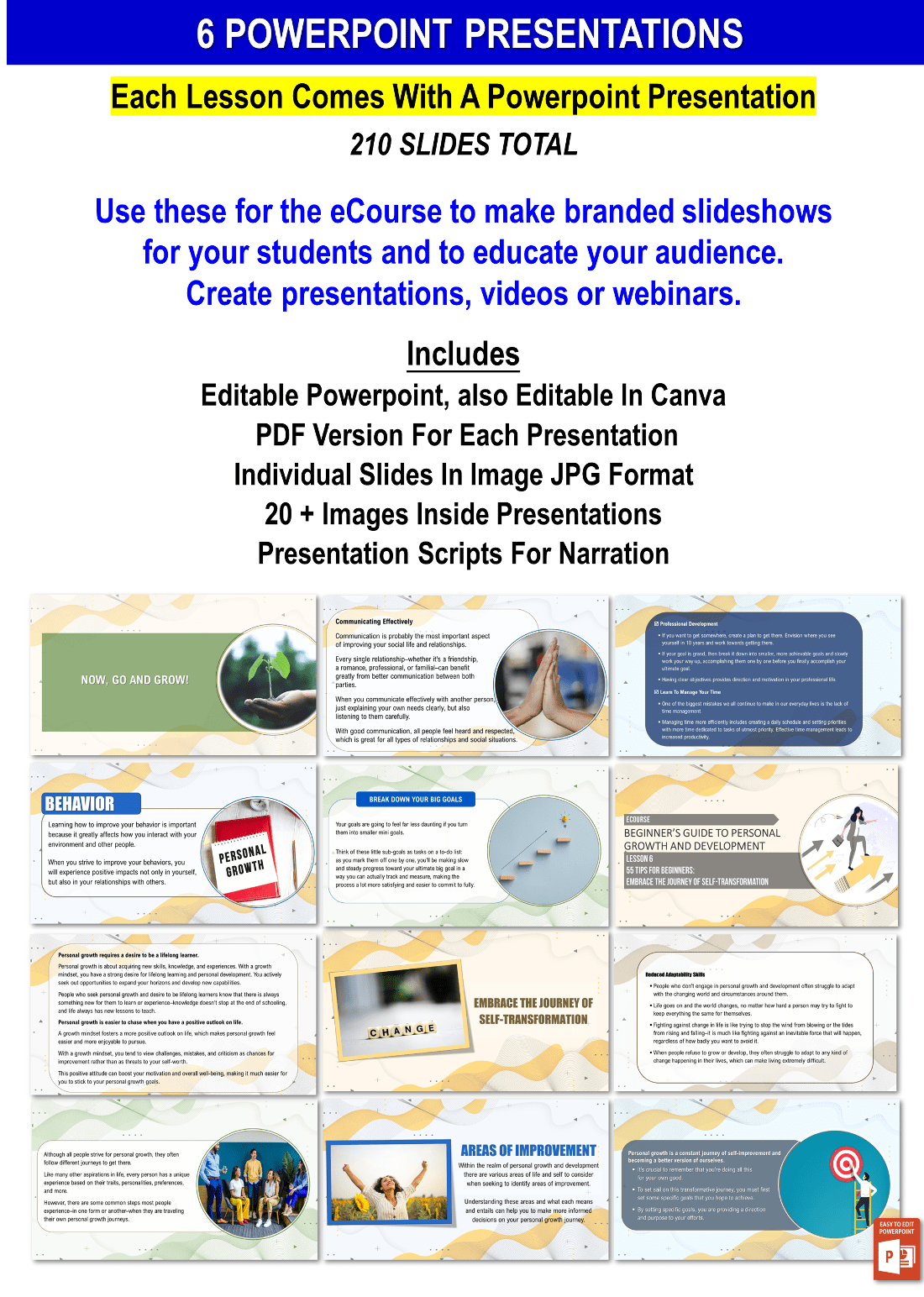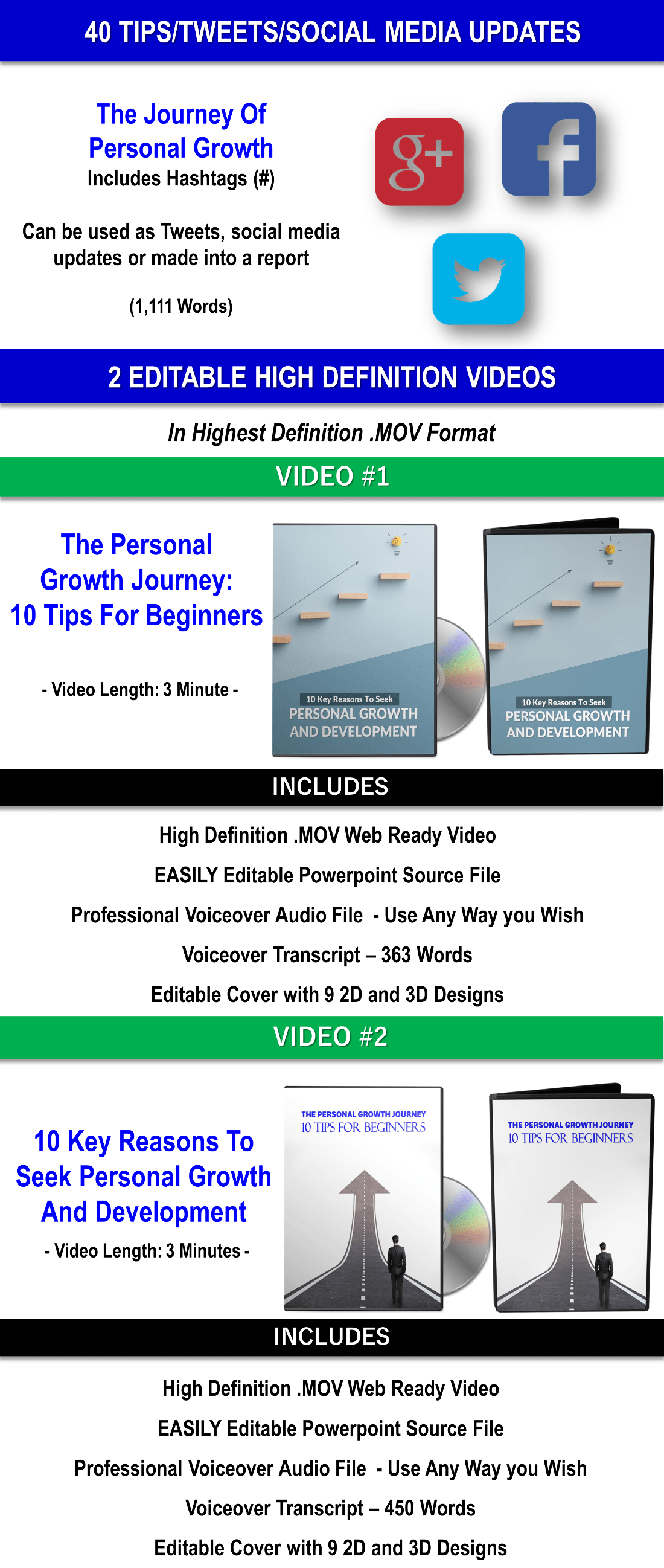 ---
VIDEO DEMOS
Note: You will get full unwatermarked version
---
YOUR BONUSES


BONUS VIDEO DEMOS
---
 A VERY HIGH QUALITY ECOURSE WITH MULTIPLE
USES AND MORE THAN 300 PIECES OF QUALITY CONTENT

The Sales Page Alone Would Cost You A Minimum Of $450
The Lessons A Minimum Of $1200
The Workbooks A Minimum of $1000
AND YOU ARE GETTING SO MUCH MORE
6 Lessons, 7 Workbooks, 6 Powerpoint Presentations,
Personal Growth Goal Planner, Audience Handouts, Emails, 28 New Articles,
40 Tweets, 3 Editable Infographics, 2 Editable Videos, Bonuses and more…
More Than 50,000 Words Of Quality Written Content
The MANY HOURS of research and writing time
and money in outsourcing savings is priceless!
WITH ALL THE EDITABLE RESOURCES
THE USAGE AND BRANDING OPTIONS ARE UNLIMITED!
---
$70.00Add to cart
---
RECAP OF EVERYTHING YOU GET
6 Lessons

Lesson 1: Introduction To Personal Growth
And Development (13 Pages/4,154 Words)
Editable eCovers with 13 Different 2D and 3D Designs
Lesson 2: 7 Areas Of Personal Growth (23 Pages/4,411 Words)
Editable eCovers with 13 Different 2D and 3D Designs
Lesson 3: The Growth Mindset And Stepping
Out Of Your Comfort Zone (18 Pages/3,651 Words)
Editable eCovers with 13 Different 2D and 3D Designs
Lesson 4: Steps Of The Personal Growth Journey (17 Pages/3,830 Words)
Editable eCovers with 13 Different 2D and 3D Designs
Lesson 5: 50 Examples Of Personal
Growth Goals (11 Pages/3,578 Words)
Editable eCovers with 13 Different 2D and 3D Designs
Lesson 6: Personal Growth And Development – 55 Tips For Beginners –
Embrace The Journey Of Self-Transformation (19 Pages/4,172 Words)
Editable eCovers with 13 Different 2D and 3D Designs
6 Powerpoint Presentations – 1 For Each Lesson
Editable Powerpoints + Scripts, Individual Slides In JPG Format
PDF Version Of Each Presentation
Editable/Printable: My Personal Growth Planner – Map Your Personal
Growth Goals and Action Plan (55 Pages/1,510 Words)
Editable Word And Beautifully Formatted PDF
Editable eCovers with 12 Different 2D and 3D Designs
7 Workbooks/Introspective Journals
60 Questions/Prompts Per Workbook – Each With Editable eCovers
Identify Personal Growth Goals: The Area Of Self – 122 Pages/1,499 Words
Identify Personal Growth Goals: Area Of Behavior – 138 Pages/1,841 Words
Identify Personal Growth Goals: Area Of Social Life And Relationships – 130 Pages/1,853 Words
Identify Personal Growth Goals: Area Of Emotional Health – 133 Pages/1,657 Words
Identify Personal Growth Goals: Area Of Mental Health – 135 Pages/865 Words
Identify Personal Growth Goals: Area Of Health Of Spirit – 132 Pages/1,394 Words
Identify Personal Growth Goals: Area Of Physical Health – 100 Pages/1,230 Words
Audience Handouts
FAQ: 15 Frequently Asked Questions
About Personal Growth (9 Pages/2,604 Words)
Editable eCovers with 12 Different 2D and 3D Designs
6 Case Studies: The Transformative Journey
Of Personal Growth (9 Pages/2,128 Words)
Editable eCovers with 12 Different 2D and 3D Designs
Key Resources For Beginner's To
Personal Growth (9 Pages/1,338 Words)
Editable eCovers with 12 Different 2D and 3D Designs
7 Day Email Series: Start Your Personal Growth Journey Today! – 2,006 Words
Custom Squeeze/Lead Page for eMail Series
Sales Minisite And Thank You Download Page For eCourse
HTML Sales Page + Thank You/Download Page
Sales Copy – 1,712 Words
Editable Page Header
Editable Product Images
28 Articles
5 Reasons Personal Growth Maybe Painful But Still Very Worthwhile – 627 Words
Top 10 Ways to Better Understand What Is Missing in Your Life – 1,648 Words
Begin The Journey To Personal Growth – 10 Questions To Ask Yourself – 834 Words
The Journey To Personal Growth – 16 Tips For Beginners – 1,438 Words
15 Examples of Personal Growth Goals – 850 Words
10 Key Reasons To Seek Personal Growth And Development – 957 Words
6 Things to Consider When You Work on Yourself – 860 Words
6 Tips For Getting Started With Self-Awareness – 646 Words
7 Practical Ways To Better Yourself – 714 Words
7 Ways to Become an Open Minded Person – 911 Words
7 Ways You Are Your Own Worst Enemy – 836 Words
7 Most Dangerous Phrases You Can Say To Yourself Today – 860 Words
6 Habits That Support The Personal Growth Mindset – 625 Words
6 Lessons Learned On The Personal Growth Journey – 642 Words
6 Of The Most Rewarding Aspects Of Personal Growth – 737 Words
6 Reasons Personal Growth Is The Most Exciting Journey You Can Take – 630 Words
7 Steps to Begin the Road of Personal Development – 677 Words
7 Tips to Get to Know Yourself Better – 631 Words
8 Areas Of Life And Self To Consider For Personal Growth – 618 Words
Beginning The journey To Personal Growth – Go At Your Own Pace – 643 Words
Dealing With Fears Associated With Introspection And Personal Growth – 614 Words
Personal Development Is About Self-Transformation – 662 Words
Personal Development – The Concept of Self – 646 Words
Self-Improvement – Get To Know The Basics – 705 Words
The Beginners Guide to Personal Growth – 848 Words
The Pain You Feel Inside Can Be Healed – 666 Words
What Is Personal Growth And Personal Development – 624 Words
Why The Change We Seek May Often Be The Change We Fear – 648 Words
2 Editable Checklists
50 Examples Of Personal Growth Goals
Personal Growth And Development: 55 Tips For Beginners
– Embrace The Journey Of Self-transformation
Word and Web Ready PDF
2 Editable Checklist Graphics
50 Examples Of Personal Growth Goals
Personal Growth And Development: 55 Tips For Beginners
– Embrace The Journey Of Self-transformation
Graphics In Editable Powerpoint
High Def Web Ready PNG and PDF
3 Editable Infographics
6 Practical Ways To Better Yourself
10 Key Reasons To Seek Personal Growth And Development
8 Areas Of Life And Self To Consider For Personal Growth
Easily Editable Powerpoint, PDF and High Def PNG
2 Editable HD Videos
The Personal Growth Journey: 10 Tips For Beginners
Easily Editable Powerpoint
Voiceover Provided Separately
Voiceover Script – 363 Words
Editable Cover with 9 2D and 3D Designs
10 Key Reasons To Seek Personal Growth And Development
Easily Editable Powerpoint
Voiceover Provided Separately
Voiceover Script – 450 Words
Editable Cover with 9 2D and 3D Designs
40 Tips/Tweets/Social Media Updates –
The Journey Of Personal Growth – 1,111 Words

103 Extra Sales Graphics
BONUSES
 
Report: Behavior Design 101 (14 Pages/3,834 Words)
Editable Word And Beautifully Formatted PDF
Editable eCovers with 6 Different 2D and 3D Designs
Custom Squeeze Page
Report: The Role Of Positive Thinking In Personal
Development (20 Pages/5,054 Words)
Editable Word And Fully Formatted PDF
Editable eCovers with 9 Different 2D and 3D designs
Image from Cover
10 Copyright Free Images
Custom Squeeze Page
2 Editable Infographics
7 Tenets Of A Peaceful Soul
Fruits Of The Spirit
Easily Editable Powerpoint, PDF and High Def PNG
15 Articles
4 Key Personal Growth Milestones 600 Words
4 Steps To Develop Your Mind 628 Words
5 Tips To See You Through Struggle 631 Words
6 Crucial Habits for Building Better Relationships 633 Words
Coping With the Anxiety That Struggle Brings 612 Words
Dont Get Ambushed by Strong Emotions When Trying to Resolve Conflicts 648 Words
Is Your Mind Scattered Read This 692 Words
Resolving Conflict Without Losing Your Mind 700 Words
Self Help 101 Start Today 630 Words
Stop Chasing Your Tail And Set Structured Goals 619 Words
Struggle Less, Succeed More: 5 Ways How 617 Words
Struggle: It Makes You Stronger 638 Words
The Dark Side of Self-Improvement 690 Words
The Purpose of Forgiveness 722 Words
What Keeps You In Your Struggles 610 Words
10 Day Educational Email Series:
The Empowered Woman – 2,107 Words

3 Editable Videos
7 Key Reasons to Nurture Your Spirit
Easily Editable Powerpoint
Voiceover Provided Separately
Voiceover Script – 290 Words
2 DVD Cover Graphics
4 Ways Forgiveness Gives You Peace Of Mind
Easily Editable Powerpoint
Voiceover Provided Separately
Voiceover Script – 284 Words
Editable eCover with 4 Different Designs
Be Limitless Through Self-Empowerment
Easily Editable Powerpoint
Voiceover Provided Separately
Voiceover Script – 283 Words
Editable Cover with 6 2D and 3D Designs
$9250 Value
---
$70.00Add to cart